Friday, April 19, 2013
Saturday, April 13, 2013
Wednesday, March 27, 2013
Zayn/Harry(/Louis) kink fic
I keep meaning to cross-link things on tumblr and then completely forgetting to do so, so maybe I'll start with this series.

Newest: Pin-Up Boy, Zayn/Harry(/Louis), painplay and some orgasm denial. Established relationship, some sappiness.

Before that: Learning Lessons Well, Zayn/Harry(/Louis), D/s and impact play. Established relationship, some sappiness. 

First one: Each One Teach One, Zayn/Harry —> Zayn/Harry/Louis. D/s and some face-slapping. Established relationship (Z/H) and first time (Z/H/L).

On a mildly related note, have some Liam/girl!Zayn knotting: Unnecessary Secrets
This series is absolutely delightful. It's about the boys on a kink discovery journey, and they just approach everything cheerfully and enthusiastically as they all work together to figure out what they need and what they like. So, you know, PORN. Kinky sex + giggling is basically all I need in life. AND BESIDES HARRY GETTING OFF ON ZAYN TELLING HIM WHAT TO DO IS SO HOT I MIGHT DIE. 
Thursday, March 21, 2013
Anonymous asked: Harry Styles just retweeted Brian Cox so I figured someone should check in and make sure you're okay and not stuck in a mental feedback loop of increasingly improbably student/teacher au porn.
THANK YOU FOR ALERTING ME TO THIS FACT BECAUSE I TOTALLY DID NOT EVEN SEE IT UNTIL YOU POINTED IT OUT AND IT IS BASICALLY THE GREATEST THING EVER OH MY GOD.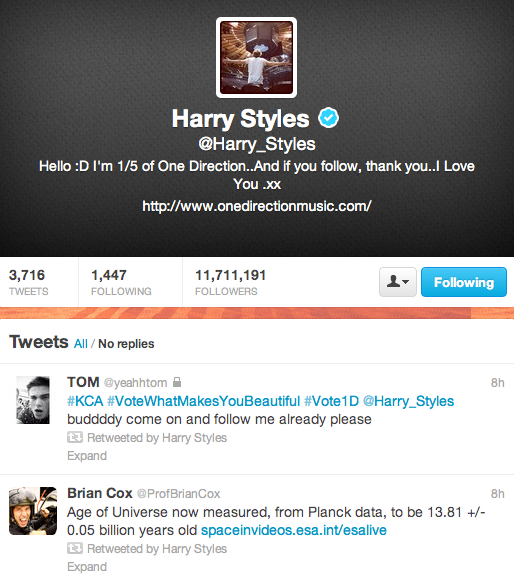 ksdjghd;sgh cosmology and boybands and SO MUCH DELIGHTFULLY FLUFFY HAIR. I don't even know what to do with myself right now. Brb incepting the observable universe into writing all the fic…
Monday, March 18, 2013
Tuesday, February 19, 2013
Wednesday, February 13, 2013
Sunday, January 20, 2013